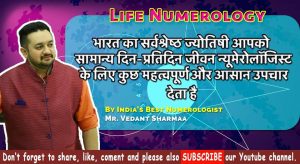 भारत का सर्वश्रेष्ठ ज्योतिषी आपको सामान्य दिन-प्रतिदिन जीवन न्यूमेरोलॉजिस्ट के लिए कुछ महत्वपूर्ण और आसान उपचार देता है
Some Important Remedies.
For studies- keep peacock feather with you.recite the mantra om saraswatiaye namah 11 times daily.eat imli ke 5 patte for 4 sun.
For finance – bury your name(written on paper) in money plant on fri.offer 2 spoon of milk for 4 fri.remove laughing buddha from your home.
—-To Know More Must Watch This Video—-https://youtu.be/Ya6gvU9t0Ww ————————–————————
Consult Numerologist Vedant Sharmaa – 📞 Call – +91 9425092415.
✉ Email – vedantsharmaa@gmail.com
 — withVedant Sharmaa.