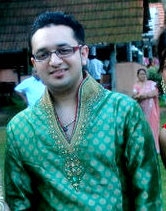 VEDANT SHARMAA
Much of one's character is determined by His/Her birth date. Numerology Gives your life path number and gets you closer to the real you.
1. Background
I was born in Ujjain holy city of India. Ujjain is in state of Madhya Pradesh and also home to the Mahakaleshwar Jyotirlinga, one of the twelve Jyotirlinga shrines of god Shiva. An ancient seat of learning, Ujjain is the place where Lord Krishna, along with Balarama and Sudama, received his education from Maharshi Sandipani. It is also known as the city of Temples.
I was brought up in Ujjain and got my initial education from my father Guruji Gobind Sharma. My father is a well known astrologer and has many politicians & film stars as his clients. He has appeared on many TV Shows and written articles for newspapers. I have inherited many qualities and traits from my father.
2. Qualification
I did my schooling from convent school. After schooling I did my Engineering in information tecnology from MIT. I am an IT Engineer and have done PHD. In Insurance (Doctorate Degree) from Pennsylvania USA.
3. Work Experience
After Graduation I am working as a Numerologist from Past 6 years in Mumbai. I have many film celebrities & politicians as my clients. I have done several numerology shows on zoom TV. Also I have worked as Life Advisor in Bhati AXA Life Insurance.
4. Awards and Achievements
I have won awards in numerology & appeared on zoom TV for many shows on numerology of bollywood films and changed the spellings of titles of many TV shows, celebrities, movies titles, company name etc.
5. Press and Media participation
Many articles of mine have been published in leading newspapers of Mumbai and Ujjain such as Mid-day and DNA. I have given many successful predictions for celebrities on Zoom TV. Many interviews of mine have been telecasted on different channels of India. I have also given many articles of numerology on blogs and e-magazines.
6. Expertise
I have been considered as one of the leading numerologist in India, I have given 6 years of my life practicing core numerology. As a numerologist I am specialized in:
• Name change
• Spelling change
• Lucky colors
• Lucky dates
• Lucky number
• Lucky stones
• Lucky days
• Lucky months
With power of numerology I can also let you know that which guy/girl will be lucky for you for marriage/friendship/partnership.
I also provide special Name Correction report about name spellings. This report will tell you about whether your birth date and name matches numerology or not. Since your date of birth cannot be changed, but we can definitely make modification to your name by adding or deleting of alphabets in your name, so that your name can bring vibrations to create better destiny.
Unlock the secret of happiness & success in your life. Minor change in your name can turn your bad luck into good.
7. Reasons for choosing astrology as carrier
I want to help as many people as I can with my knowledge. If they have strong & favorable name number which is harmonious with their date of birth, they will easily get success, happiness, and love without much struggle.
The limitations which your date of birth have we can overcome them by changing your name spelling & making your name come on fortunate numbers.